Our Five Favorite Things to Do in April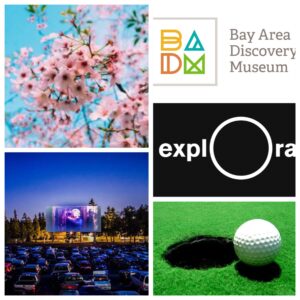 As we embrace springtime in the Bay Area, we wanted to share our five favorite activities to keep your family having fun in April!
Want to participate in one of California's largest prominent celebrations of Asian traditions? All from the comfort of your own home? Attend the

54th annual Northern California Cherry Blossom Festival®

during the two weekends of April 10-11 and 17-18! This virtual festival will stream from 3:00 p.m. — 5:00 p.m. PT each day, showcasing many cultural performers, highlighting our Japanese and Japanese American communities, and watching our cherry blossoms bloom in our neighborhood. FREE

Want to equip your family with tools to explore positive social change in your lives and community? Check out

Empowered Kids Storytime

, hosted by the Bay Area Discovery Museum. Once per month on a Saturday morning, BADM educators lead a read aloud and conversation around meaningful stories of empathy, humanity, compassion and action. Your child will leave the program with:

Tools to build social-emotional skills that cultivate empathy

Empowerment to try new things and build a sense of capability and confidence in creating positive change
The April 17 read aloud is The Teddy Bear, by David McPhail. This story will show us how to see the basic humanity in all people and take a simple action to show empathy and compassion for a person experiencing homelessness. Together, we will also explore how to support these members of our communities. For ages 4+ and caregivers. FREE
Love story time with design challenges? Combine the two with

Storytime Science for Kids Online: The Flying Things Episode

, brought to you by the Exploratorium. This storybook read aloud is followed by a simple activity geared toward young children. This April, the Exploratorium's own Vivian Altmann reads

Rosie Revere, Engineer

by Andrea Beaty and illustrated by David Roberts. After the story, stick around for three fun activities: building a rotocopter, a spinning blimp, and a ring glider! For more information and a list of materials to gather ahead of time, click on the link above. Wednesday, April 28 1:00 p.m. via Facebook or YouTube. FREE

Yearning for some nostalgic and competitive family fun out of the house? Head to

Milpitas Golfland

for a round of miniature golf. With three courses to choose from, you can practice some mathematics and sportsmanship skills while having a great time. Prices vary.

Missing the movies? Want to build on the nostalgic feels of miniature golf? Head to the West Wind Capitol Drive In Theater to see "Tom and Jerry" on the big screen. Nightly screenings at 8:00 p.m. Tickets are $2.00 (ages 5-11) and $8.50 (ages 12+).