Our Five Favorite Things to Do in July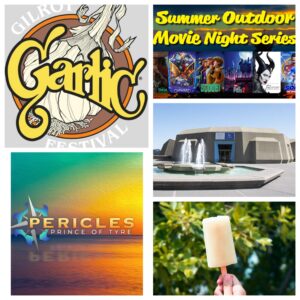 From delicious eats to movies under the stars, July is full of fun family opportunities. Our top five are below: 
MATH MADNESS. Engage in hands-on math activities while exploring angles, patterns, structures, and shapes to construct your own designs at The Lawrence Hall of Science.  These math-themed outdoor Summer Fun Days will run Thursdays through Sundays on their scenic plaza. Advance tickets are required and available for purchase online. 
The Lawrence \ 1 Centennial Drive, Berkeley, CA 94720 \ 510-642-5132 \ Hours: Thursday, July 1-Sunday, July 25: 10:00 a.m.-3:00 p.m.
SF SHAKESPEARE FESTIVAL. This summer's 39th Free Shakespeare in the Park production features a four-episode production of Shakespeare's epic tale, Pericles, Prince of Tyre in a new verse translation by playwright Ellen McLaughlin. The season begins with virtual performances of Episodes 1 through 3 on YouTube Live. Episode 4 ushers San Francisco Shakespeare Festival's return to in-person outdoor performances in Bay Area parks. Reserve tickets here. FREE.
SF Shakespeare Festival \ Virtual, In-person locations TBA \ 415-558-0888 \ Fridays & Saturdays: 7:00 p.m., Sundays: 4:00 p.m. 
MOUNTAIN VIEW SUMMER OUTDOOR MOVIE NIGHT SERIES. Want an in-person entertainment experience? Bring a blanket or lawn chair and enjoy watching a Friday night movie in a variety of Mountain View parks. The Summer Outdoor Movie Night Series runs July 16 through August 20. All movies begin at 8:30pm or dark. FREE.
Movie Line-Up
July 16: Cuesta Park – Raya

July 23: Stevenson Park –  Onward               

July 30: Whisman Park – Scoob

August 6: Sylvan Park – Secret Life of Pets 2

August 13 Eagle Park – Maleficent: Mistress of Evil

August 20: Rengstorff Park – Sonic the Hedgehog
Mountain View Parks \ Various locations \ Recreation@MountainView.gov \ Fridays at dark or 8:30p.m.
SUMMER PARK POP UPS. More fun in Mountain View parks! In honor of Park and Recreation Month, City staff will be bringing summer fun and activities to the Mountain View neighborhood parks. Each Wednesday in July, they will travel to a different park in the City bringing lawn games, music and FREE popsicles from 4:00-6:00 p.m.. Summer Park Pop-Ups are open to all ages and free to attend. View the schedule below and attend the park pop-up closest to you.  FREE.
July 7: Cuesta Park 

July 14: Whisman Park 

July 21: Sylvan Park 

July 28: Rengstorff Park 
Mountain View Parks \ Various locations \ Recreation@MountainView.gov \ July 7-28 (Wednesdays): 4:00-6:00 p.m.
GILROY GARLIC FESTIVAL. The 41st year of the iconic Gilroy Garlic Festival will run the weekends of July 23 –25  and July 30 –August 1. For four decades, the Gilroy Garlic Festival's famous Gourmet Alley has attracted strolling visitors with its pungent aroma, enticing flavors, jaw-dropping pyrotechnics, and community spirit. Enjoy your favorite bites this year at a Reimagined Drive-Thru Gourmet Alley. Imagine the world's most delicious alleyway as a pre-ordered drive-thru, experiencing the "Taste of the Festival." In addition, enjoy additional events, including a Farm-to-Table Dinner in an intimate outdoor setting, or Golf for a Cause. Reserve tickets here.
Gilroy Garlic Festival \ Gilroy, CA \ 408-842-1625 \ July 23-25 & July 30-August 1: times vary.