Our Five Favorite Things to Do in June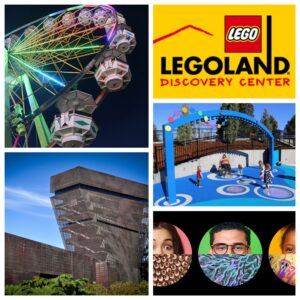 Summer is here! From yearly events to reopenings to new experiences, June is serving up something exciting for everybody. Our top five are below:
SAN MATEO COUNTY FAIR. The San Mateo County Fair is back! From June 5-June 13, enjoy performances, agriculture exhibits, food, and main stage concerts. Check out the new and free kids activities, including the San Mateo County Fair Farm and Family Fun Zone. Don't miss Roberto the Magnificent and other roaming performers as you're strolling around the grounds. The Carnival Midway will host almost 30 rides and will offer two free ride tickets for children who read two books and complete their book report sheet. The Domini Hoskins mobile Black History Museum will also showcase more than 100 exhibits each day. The 2021 Concert Series, held outdoors at 7:30 p.m., is free to all this year with fair admission. 
With new events and experiences throughout, the interactive daily schedules will help you plan your visit. A few special days at the 2021 fair include: the second annual Family PRIDE Day (June 6), Pacific Islands Day (June 12), and Dia de la Feria (June 13). Online tickets can be reserved now, and are required for entry. 
San Mateo County Fair \ 1346 Saratoga Drive, San Mateo, CA 94403 \ 650-574-3247 \ Hours: Saturday, June 5-Sunday, June 6: 11:00 a.m.-10:00 p.m.*; Wednesday, June 9-Sunday, June 13: 11:00 a.m.-10:00 p.m.*
LEGOLAND DISCOVERY CENTER. Beginning on June 8, families can enjoy the ultimate indoor LEGO playground at the Legoland Discovery Center. In addition to its millions of LEGO bricks, children can ride the Imagination Express train, see their favorite LEGO characters on LEGO 4D Theater, and build epic LEGO creations alongside master builders. Families can even see famous Bay Area landmarks recreated in LEGO at MINILAND. Over twelve attractions and rides in all. Timed standard tickets, annual passes, and gift tickets are available now online. Timed tickets can also be purchased at the door.
LEGOLAND Discovery Center Bay Area: Great Mall \ 870 Great Mall Drive, Milpitas, CA 95035 \ Once open, current operating hours will be: Monday-Saturday: 11:00 a.m.-7:00 p.m. (Last Entry at 5:00 p.m.); Sunday: 12:00 p.m.-6:00 p.m. (Last Entry at 4:00 p.m.)
DE YOUNG MUSEUM. What do colossal cracked stones, a three-piece ball gown, a spirit figure, and work created from charcoal retrieved from a church destroyed by arson have in common? They are all at the de Young Art Museum in San Francisco. The de Young collections—encompassing American paintings, sculptures, and decorative arts; modern and contemporary art; art from Africa, Oceania, and the Americas; and textile arts—reflect an active conversation among cultures, perspectives, and time periods.
Every Saturday is Free de Young Museum Day for Bay Area residents. Saturdays feature engaging art experiences for the entire family, including art-making, gallery guides, and tours with discussion and sketching in the permanent galleries. Please note this offer is for permanent collection galleries only and admission to any special exhibits will require paying the full admission price. 
The de Youngsters studio is also available for families with children of all ages and offers activities designed for visitors ages 3–8 to explore with an accompanying adult. Located in an area of the de Young that is free and open to the public, the space is open during regular museum hours. 
A few tips for planning your trip to the de Young: 
Reserve your tickets in advance online

and be prepared to verify with ID onsite.

Free admission may be redeemed onsite with a driver's license or postmarked envelope. Qualifying counties: Alameda, Contra Costa, Marin, Napa, San Francisco, San Mateo, Santa Clara, Solano, and Sonoma.

Free Saturdays will not take place on Saturday, June 12, and will resume on Saturday, June 19.

Visitors

ages 17 and under always receive free admission

to the permanent collection galleries.
Want to enjoy the de Young from home? Check out their collections online via Google Arts and Culture. 
de Young museum: Golden Gate Park \ 50 Hagiwara Tea Garden Drive, San Francisco, CA 94118 \ 415-750-3600 \ Hours: Tuesdays–Sundays, 9:30 a.m.–5:15 p.m.
EXPLORATORIUM AT PIER 15. The Exploratorium at Pier 15 reopens to members and donors June 24-27 and to the public on July 1! The Exploratorium is more than a museum—it's a gateway to exploring science, art, and human perception with every visit. Let your curiosity roam through hundreds of exhibits, many focused on noticing and observation, in six spacious indoor and outdoor galleries. At the Exploratorium, you don't just look at exhibits—you play with them. Dance with your own shadow, levitate, touch a tornado, mix colors and break light apart, stop time, start a conversation, capture a wave, explode your mind; it all can (and does) happen here.
They've been making our own interactive exhibits since 1969. With six spacious indoor and outdoor galleries and hundreds of exhibits on display in the museum, they're also working to create a browsable collection of these exhibits online. Reserve timed tickets in advance.
Exploratorium: Pier 15 \ Embarcadero at Green Street, San Francisco, CA 94111 \ 415-528-4444 \ Hours: Wednesday–Saturday: 10:00 a.m.–5:00 p.m.; Sunday (Daytime Members/Donors Only): 10:00 a.m.–Noon; Sunday: Noon–5:00 p.m.
MAGICAL BRIDGE PLAYGROUND. Universally Designed as a socially-inclusive playground for everyone, Magical Bridge Playground finally includes play structures for the 1-in-4 of us living with physical and cognitive disabilities, autism, and visual and hearing impairments as well as the medically fragile and our aging population. The first of its kind, Magical Bridge clearly illustrates how today's typical park designs overlook so many. Designed for all ages, Magical Bridge Playground includes a variety of play zones, auditory features, soft surfaces, retreat spaces, and a community treehouse and stage.
Magical Bridge Playground: Mitchell Park, Palo Alto, CA \ Located near the dog park and the tennis courts in Mitchell Park, on the side of the park nearest to Mitchell Park Library and Ada's Cafe \ Open daily and free to the public.