Our Favorite Tweets: March 2022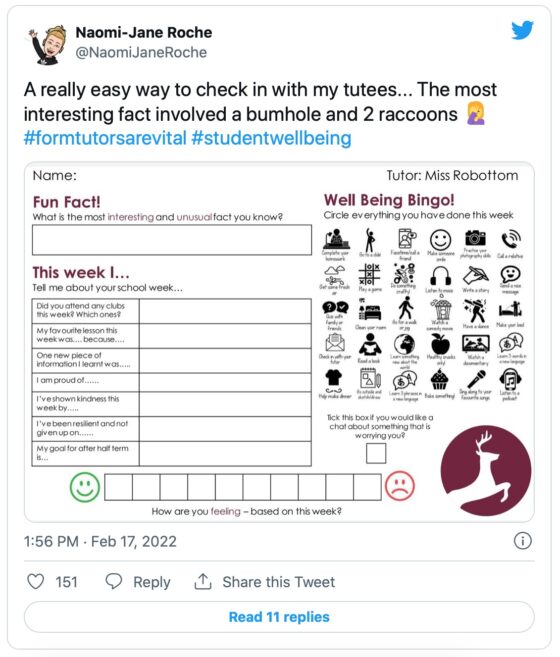 ---
Wellbeing Bingo!
A really easy way to check in with my tutees… The most interesting fact involved a bumhole and 2 raccoons 🤦‍♀️ #formtutorsarevital #studentwellbeing pic.twitter.com/TE74xEPNi8

— Naomi-Jane Roche (@NaomiJaneRoche) February 17, 2022
---
Kid Hotline Offers Advice
An inspired art project that teaches empathy. Imagine if we liberated all teachers & kids from the tyranny of testing so that they could create projects like this. via @NYTimes https://t.co/ueqhliBx8l

— Tony Wagner (@DrTonyWagner) March 13, 2022
---
Mood and the Brainstorming Process
Mood matters when you are trying to come up with ideas: if the team has a 😄😜🥳 mood (playful, enthusiastic & peppy), you come up with 13% more ideas.

When selecting which ideas are best, though, you need to shift the mood to 🧐🤨. Relaxed but with a critical edge works best. pic.twitter.com/3gdXIXIsq2

— Ethan Mollick (@emollick) March 7, 2022
---
Stories Build Empathy
There's power in a story. It draws you in and lets you see the world through someone else's eyes. You don't even realize you're learning something along the way. (That's not just true for kids, by the way.) pic.twitter.com/kjVDaR86ez

— Julia Cook (@juliacookonline) March 5, 2022
---
Follow our Nurturing Resilience list on Twitter.