SEL Read Aloud: A Splash of Red: The Life and Art of Horace Pippin by Jen Bryant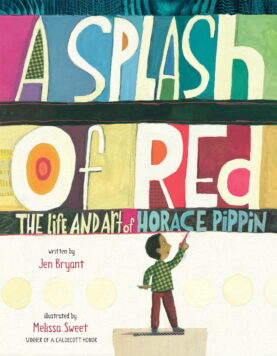 ---
Summary
Horace Pippin was a boy with big hands who loved to make art. Because he was so big and strong, he had many responsibilities in his family, but he drew pictures whenever free time he had. His classmates loved his artwork, and he even won a magazine contest for his drawings.
When Horace was in middle school, his father left their family, he had to work even harder to support his mother, brothers, and sisters, until he was called to fight in a war overseas as a young man. Just like when he was a boy, family, friends, and even his fellow soldiers encouraged him to draw more pictures.
But during the war, Horace was shot in his right arm, leaving him unable to do either manual labor or draw — a major change from his life before the war. As a married man, Horace was forced to do different kinds of work.
He longed to draw the way he did when he was younger, until one day when he decided to use his left hand to guide his right hand. As he practiced, he got better, and in middle age, his artwork finally caught the attention of the art world.
---
Discussion Questions
What do you feel called to do by your family and friends?
What do you feel encouraged to do by your family and friends?
Is there anything you love to do so much that you would be willing to a new way, however time consuming and challenging, if your abilities changed?
What is something about your style that is unique and longstanding? What is something about your style that has been informed by a major life event?
What do you think the average age is for a person who is first widely recognized for their work?
---
Read Aloud
---
Additional Resources
---
Copyright Notice
The image on this page comes from the book A Splash of Red: The Life and Art of Horace Pippin by Jen Bryant. Copyright © 2013 by Jen Bryant.