SEL Read Aloud: After the Fall: How Humpty Dumpty Got Back Up Again by Dan Santat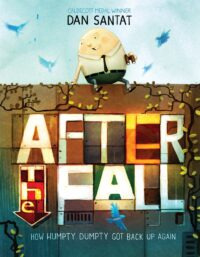 ---
Summary
In this expansion of the original nursery rhyme, Humpty Dumpty goes into greater detail about the emotional toll his accident had on him long after the king's men were able to physically restore him. He wasn't the same at his fall. He was too scared to return to the wall where he once watched birds, and he couldn't even do simple things, like go grocery shopping, without getting triggered by his fear of heights.
In order to feel closer to his old life, he works hard to build a paper airplane resembling the birds he was now forced to watch from the ground. He flies it through the air and experiences some of the thrills he used to have, but inevitably another accident happens. This time, his plane flies over the wall.
Humpty Dumpty must decide whether to climb the ladder and risk falling again or continue prioritizing his fear over his happiness. As he begins to climb the ladder, readers notice his shell starting to crack, revealing something underneath. At the top, he sees everything again, and his shell falls away entirely. He is a bird who can fly the skies himself, totally free from his fear of falling.
---
Discussion Questions
Have you ever had something bad happen that affected you both physically and emotionally? In what way did you heal first?
How are the ways we heal from emotional injury different from the ways we heal from physical ones?
What is a fear you have conquered? How were you able to do it?
What is a fear you still have? What do you think you would need to move past it?
Who is another nursery rhyme character whose emotional journey you would like to imagine?
---
Read Aloud
---
Additional Resources
---
Copyright Notice
The image on this page comes from the book After the Fall: How Humpty Dumpty Got Back Up Again by Dan Santat. Copyright © 2017 by Dan Santat.